Most homeowner's insurance policies are written as a package policy. By this I mean, there is a specific amount of coverage for the dwelling (house) and all other coverage is a percentage of that amount.
In other words, if the dwelling amount (coverage A) is $300,000, the contents are usually 50% or $150,000 and other structures is 10% or $30,000. There are however, three important topics that you want to consider when purchasing a homeowner's hazard insurance policy.
Replacement Cost or Actual Cash Value
How the structure or contents are valued is a key part of the policy. Replacement cost valuation means that you would receive new for old. If your home or personal belongings are damaged as the result of a covered peril (fire, wind, hail or burglary) then you would be reimbursed for what it would cost to replace or repair those items at today's cost. Actual Cash Value valuation means that for the same type of claim you would be reimbursed for the depreciated cost of the items. For example, if your air conditioning unit were damaged due to a lightning strike, you would want the unit to be replaced with a new one, not a used one that is the age of the damaged unit. Many insurance agents today, who are trying to offer the lowest price, will quote a policy with an "Actual Cash Value" valuation on contents since the rate is lower. This should be avoided since you are unlikely to be happy getting reimbursed for anything at the depreciated value. You are not likely going to want a used air conditioner if yours is damaged by a lightning strike. The same thing goes for the roof of your home down to your clothes.
Wind and Hail Deductible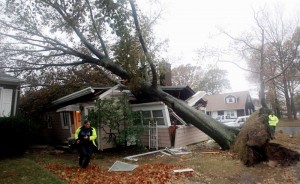 Most insurance companies today have a separate deductible amount for wind and hail than for all other perils. This can be confusing to the buyer since the wind/hail deductible is usually stated as a percentage of the dwelling amount. So then, if your home is insured for $300,000 and you have a 1% deductible, then the first $3,000 of the wind/hail claim is coming out of your pocket. Many insurance agents skim over this quickly when discussing coverages as this is what is normal in the market place in many states. In Florida for example, the wind/hail deductible may be quoted as high as 5% to get the rate down but this would be ridiculous in a state that sees few hurricanes or hail storms each year. Make sure you ask about this since it is the last thing you want is to find out about it when you are getting your roof repaired.
Water Backup
Another coverage that is overlooked by the consumer is water backup. Most policies do not contain this coverage and it must be endorsed onto the policy. Water backup coverage responds when water backs up into your home as the result of the city's water or sewer lines failing. This is usually more common in older neighborhoods where the infrastructure is out dated. It can be a very messy and expensive situation which would be covered by your insurance if you paid an extra $50 or $75 per year for the coverage.
Your home is usually the most expensive purchase in your lifetime. It doesn't make sense not to take the time to be informed when insuring it. So when getting quotes for homeowners insurance ask the right questions and don't be focused on just the cost — focus on truly replacing your home for just about any contingency.